Holiday home owners at Hoburne Bashley win £5,000 prize from Leisuredays insurers!
Two lucky Hoburne holiday home owners hit the jackpot when they won a £5000 cash prize from our insurance partner, Leisuredays!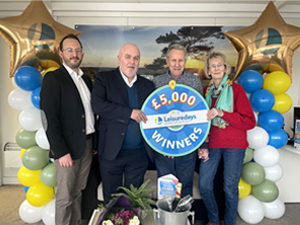 Leisuredays insurance provider runs a "Spin to Win" promotion for static caravan and lodge owners who obtain a quote via the holiday parks it works with.
Spin to Win gives those customers two chances to win with a no-obligation insurance quote. Firstly, a spin of an online wheel of fortune to instantly win a £10 Amazon voucher and secondly, automatic entry into an annual £5000 draw.
Trevor and Helga Redvers-Higgins were the first £5000 winners. They'd got a quote from Leisuredays having bought a Carnaby Chantry lodge from Hoburne Bashley in the New Forest, earlier this year.
Helga said: "We're over the moon. We'd just got the keys for our new lodge the day before Leisuredays called us to let us know we'd won the £5000, so it felt unbelievable.
When asked how they'd be spending the money, Helga added "We'll be treating the family as well as buying outdoor furniture and a new television for our lodge."
Gareth Walker from Leisuredays said: "It was an absolute pleasure to tell Trevor and Helga the good news and it's brilliant to hear that they'll be using the money to add some extra home comforts to their new lodge."
Helga commented on the simplicity of the Spin to Win promotion.
"When we saw the promotion, we thought 'what have we got to lose?' So, we spent a few minutes getting a quote. We never thought we'd win but here we are £5000 better off!"
Leisuredays will be announcing another £5000 winner in March 2024. Hoburne Holiday park customers can pick up a leaflet on their park or visit www.ldwin.co.uk to play.
Like this article
Sign up and be the first to read our blog posts.

Did you enjoy this article? Feel free to share it.