Exciting additions to Hoburne Bashley.
Tucked away behind a blanket of trees in the New Forest sits Hoburne Bashley, where you could easily think that life's a little on the quiet side… but venture a further into the park, and that's not necessarily the case. 
Introducing, the Activities Den… 
As if a visit to Hoburne Bashley wasn't already jam-packed with activities to be enjoyed, there's now even more to look forward to as our new Activities Den is a hub full of fun for little ones!
What's on in the Activities Den?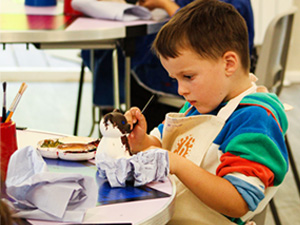 POTTERY PAINTING SESSIONS*
Open to children aged 3+, our pottery painting sessions are sure to get their creativity flowing, come rain or shine!
With a variety of figurines and a rainbow of paint colours to choose from, each little artist can decorate a unique memento to take home or gift to a friend or family member.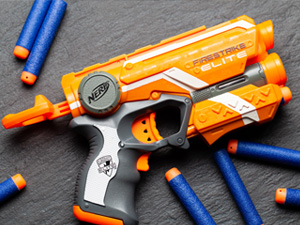 NERF SESSIONS*
Duck, dive and take aim against the opposing team in our Nerf sessions! Whether they join us as a group or build new friendships with their teammates, our Nerf sessions are full of active fun with just a touch of competitiveness.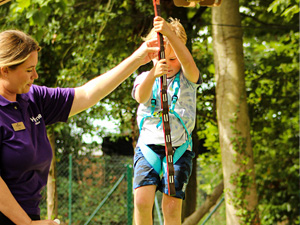 MINI SKY TREK*
Navigate our low ropes, leap from platform to platform and soar across the zip wire on our Mini Sky Trek course, designed especially for younger thrill-seekers.
Please note, our low ropes course is suitable for children aged 2 -7 years (must be under 122cm). 

Where is the Activities Den?
The Activities Den and Mini Sky Trek are located behind the entertainment complex, just past the Sycamore area of the park. It can be a little tricky to find if you haven't visited before, so be sure to take a look at point 22 on our park map below and consider finding us all part of the fun! 

Who can visit the Activities Den?
Everyone is welcome at the Activities Den! Whether you're holidaying with us, are a leisure member or living in the local area, the den is open for all to come along and take part, just be sure to book at reception first!
*Charge applies, please book activities at reception, either in person or by calling 01425 612340
.
Like this article
Sign up and be the first to read our blog posts.

Did you enjoy this article? Feel free to share it.