Father Christmas to Visit Elf School 2020
After the year we've all had, we are really hoping to make this Christmas the best one yet. That's why we're pulling out all the stops to make it a December to remember.
For the third year in a row, Hoburne Park in Dorset will be home to our family favourite festive event, Elf School. Although a little different this year, Elf School is the perfect way to bring a bit of magic to the end of the year and reassure the little ones that Christmas cannot be cancelled, no matter what this year has thrown at us!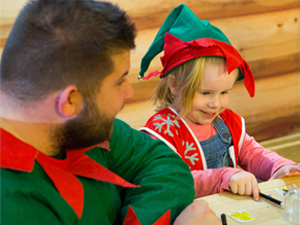 To make things even more special this year, we have arranged for a VIP guest to join us, all the way from the North Pole. That's right, Father Christmas will be making an appearance at Elf School this year where he'll be welcoming the boys and girls, keeping a watchful eye on the mischievous Hoburne elves and presenting Elf School Diplomas!

But what do you need to do to get your hands on one of these prestigious diplomas we hear you ask? It's simple… help the elves save Christmas! With the present-making machines out of action, they need help to prepare the gifts on time. 
HOW TO BOOK
To book your place at this unique experience, email events@hoburne.com with your chosen date and time from:
10:00am, 11:15am, 1:00pm, 2:15pm and 3:30pm on the following dates:
Saturday 5th and Sunday 6th December
Saturday 12th and Sunday 13th December
Saturday 19th and Sunday 20th December
Check our Elf School page for more details and so keep up to date with the availability of sessions.
Please note, there is a maximum of 6 per booking due to social distancing.
Like this article
Sign up and be the first to read our blog posts.

Did you enjoy this article? Feel free to share it.