Summery crab tagliatelle recipe.
Having holiday parks in so many sort-after parts of the UK really does give us the best pick of local produce! For this recipe, we'd recommend some freshly caught crab from the Devon or Dorset coast! 
This quick and easy pasta recipe is a testament to showing off fresh produce in the best possible way by keeping things simple. 
Serves: 4 | Prep time: 15 mins | Cook time: 20 mins
Ingredients: 
400g white crab meat | 400g dried tagliatelle | 200g finely chopped red onion | 30g chopped garlic | 40g fresh chilli (chopped) | 30g parsley (chopped) | 80ml olive oil | 200g parmesan shavings | 20ml extra virgin olive oil | 1 lemon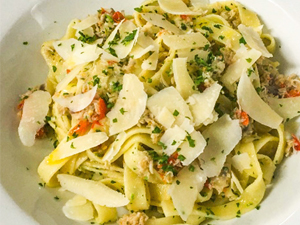 1. Prepare the crab meat and check for small bones.
2. Bring a saucepan of water to the boil and add a pinch of salt.
3. Add the tagliatelle to the saucepan, with a little drizzle of olive oil.
4. Cook the pasta gently for eight minutes stirring occasionally to ensure the pasta doesn't stick. The pasta should have a slight crunch to it when ready (El Dente).
5. While the pasta is cooking, in a large nonstick frying pan, heat the olive oil and add the chopped red onion, garlic and chilli. Mix the ingredients together for a few minutes.
6. Add the crab meat to the chopped onion, garlic and chilli and stir.
7. Drain the tagliatelle and add to the crab meat.
8. Zest the lemon and then halve.
9. Add the lemon zest and squeeze the lemon juice into the pan and toss it together.
10. Season to taste and add the chopped parsley.
11. Arrange neatly in a bowl and sprinkle with parmesan cheese and finish with a drizzle of extra virgin olive oil.
Like this article
Sign up and be the first to read our blog posts.

Did you enjoy this article? Feel free to share it.