October Half Term at Hoburne
And… breathe. You've made it. Countless packed lunches, impossible homework and numerous alarm clock malfunctions are a distant memory. You've reached half term and it's time for you to ditch the morning routine, dive into your duvet and enjoy a well-earnt break from the stresses of school.
Or so you think… the little ones however, may have other ideas. Jam-packed schedules full of crafts, cookery and climbing. Football in the park, trips to the pool. But do not fear! At Hoburne, it's all possible.  
October half term is just as much of an opportunity for you to unwind as it is for the children; a chance to fit in some well earnt-family time before the busy run up to Christmas. Plus, with plenty of fun-filled activities to keep them busy on our parks, there's bound to be few quiet moments for that all-important adult time too.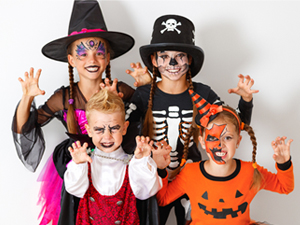 SO, WHAT'S GOING ON AT HOBURNE THIS HALF TERM? 
Half term just so happens to perfectly align with the "spooky season" which is great news for your little witches and werewolves. We'll be getting into the spirit of things this Halloween with pumpkin carving, fancy dress competitions and art and craft workshops. You can find out more about these here.
There will also be plenty going on for adults as our entertainment schedule will be packed full of comedy, cabaret and quizzes*. You could even take a break from the cooking during your stay and enjoy a family meal in one of our on-park restaurants, Brassiere 1912.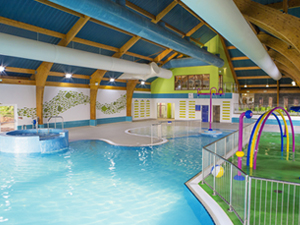 A Hoburne holiday can provide everything that you need to build that jam-packed schedule and all within a safe, family-orientated environment. Depending on which park you are staying at, the little ones can make use of the swimming pool, indoor play area, adventure playground and multi-use games area**.
There will also be activities on offer with Tommy's Tots (under 5's) and Sammy Squad (5 to 12-year olds). With so many great things going on, our parks make the perfect place to burn off that excess energy, which means that getting some quiet time to yourself should be even easier.

So, what will it be? A dip in the hot tub or a session in the sauna? Our facilities and entertainment are not only great for helping children to unwind, but adults too. If you're looking for ultimate luxury, then opt for our range of hot tub accommodation. It makes a blissful base to return to after a busy day of adventuring, and is perfect for the whole family.  
Some of our parks also feature golf courses and fishing lakes, so why not exchange a few hours of looking after the children for a few hours out on the green? Take it in turns to keep the little ones entertained and enjoy a bit of 'me' time. 

If you're staying at one of our Hampshire or Dorset parks, then you could even visit Hoburne Bashley's Beauty h spa for some pampering. After a morning of relaxation, you'll be able to reconvene for lunch in Café h or head out and explore the area to see where's popular with the locals. That's the beauty of a Hoburne holiday, you can do as little or as much as you like. You won't even have to leave the park if you don't feel like it!
What are you waiting for? Start planning your perfect break and make it a half term to remember. Find out more here and we'll see you soon!
*Excludes Hoburne St Mabyn, Blue Anchor and Doublebois. **Cost applies. 
Like this article
Sign up and be the first to read our blog posts.

Did you enjoy this article? Feel free to share it.