Things to do in Mudeford, Dorset
Mudeford, a hidden gem on the Dorset coast. Just a short walk away from Hoburne Park holiday park, and a hop in the car away from Hoburne Bashley and Hoburne Naish.
With sandy beaches, popular pubs, restaurants and cafes and plenty to keep the children busy, it's no wonder that families return to this charismatic area of Christchurch each year.
It's most certainly captured our hearts, and as much as we'd love to keep it all for ourselves, you really do have to visit to see why it's so truly special. Here's our top three things to do!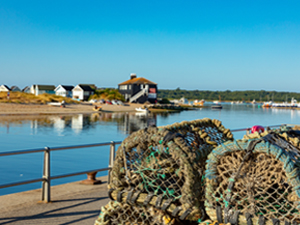 1. CRABBING ON THE QUAY

No one is too old for crabbing and that's just one of the things that makes it such a fun family activity. Even those who are usually fearful of creatures with more than two legs won't be able to resist trying their luck and seeing how many they can catch! Whether you're a cool-headed crabber or a complete novice, it's hours of laughter waiting to be enjoyed. In fact, Mudeford is such a popular place for crabbing that the shop on the quay even sells crabbing lines and buckets, so you'll have no trouble sourcing some suitable equipment. Our top tip – bring bacon, they love the stuff!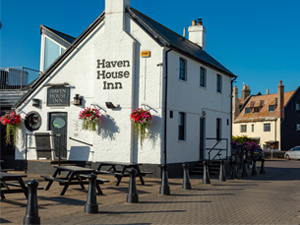 2. EAT, DRINK AND BE MERRY

When it comes to food and drink, you'll be spoilt for choice at Mudeford. The Haven House Inn is ever-popular with both locals and holidaymakers, with its classic pub menu and rustic charm, it's a nod to pastimes when the area was renounced for sea smugglers. Its unrivalled view of Christchurch Habour makes it the ideal spot to sink a pint while watching the sunset.
The Noisy Lobster at Avon Beach, Mudeford brings in crowds from near and far and is a must-visit for seafood lovers. Overlooking Mudeford Bay and across the water to the Isle of Wight, you can lap up the sea views as well as sample the local produce.
The quay is also home to many exciting events throughout the year including Mudeford Seafood Festival, Highcliffe Food and Arts Festival and the annual Lifeboat Funday. It's not unusual to spot an ice cream van parked up along the quay either, so you'll have all your needs taken care of!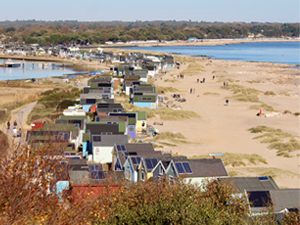 3. CATCH A FERRY TO THE SANDBANK

Situated near the mouth of Christchurch Harbour, the sandy spit offers fantastic views of both the harbour itself and across to the Isle of Wight.
With some of the most sought after and expensive beach huts in the country, these huts are unique in the fact that they have residential status. Because of this, the spit benefits from having a range of facilities including a shower block, toilets, bistros and a shop.
It is also an extremely popular location for water sports including kayaking, canoeing, jet-skiing and windsurfing. The harbour side of the sandbank is designated for watersports and the seaward side is recommended for bathing.
You can easily spend a whole day at the sandbank, and after doing so will probably want to visit the next day too! The good news is, it's suitable for the whole family, even the four-legged kind.
Access to the spit is via foot, the Hengistbury Head land train or on the Mudeford Quay ferry, which makes it even more exciting!
Like this article
Sign up and be the first to read our blog posts.

Did you enjoy this article? Feel free to share it.