Winter walks in Dorset & Hampshire
We know… a walk is probably the last thing you're thinking about as you look out of the window today! But when you visit a Hoburne holiday park in the Dorset/Hampshire border, there are so many beautiful locations right on your doorstep, that there couldn't really be any better motivation to get out and about, even during the winter!
Our top pick of Dorset & Hampshire winter walks…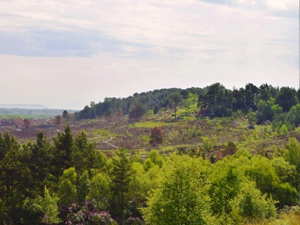 St Catherine's Hill Nature Reserve, Christchurch

Now walking boots may be required for this one, as the terrain can be a little uneven – but make your way to the top of the hill and at 53 meters above sea level, you'll be rewarded with the most spectacular views! See the River Avon and River Stour from above, look across to Christchurch Priory and Hengistbury Head, and on a really clear day, you may even be able to see the Isle of Wight!
Wonderful wildlife:
As well as taking the lovely local views, you may even be able to spot wildlife such as the endangered sand lizard, the smooth snake and a variety of birds such as the Dartford Warbler, Red Shank and Woodcock.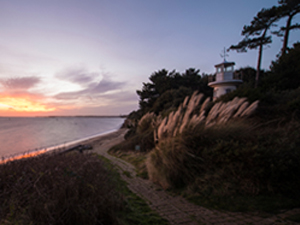 Take the 'Lepe loop' along the public footpath and enjoy both coastal and countryside views on this leisurely 5-mile walk – just be sure to check the tide times before setting off! Highlights include the Coastguards Cottages and Watchhouse, built in 1828 and the Beacon, built in 2000, which marks the beginning of the Beaulieu River and entrance to the historic Lepe House.
Find details of the low and high tide routes on the Lepe Estate website.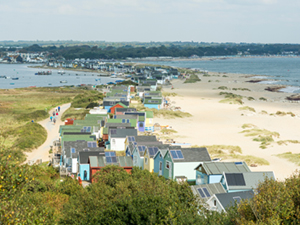 Hengistbury Head, Christchurch
A walk at Hengistbury Head has something for everyone – sandy beaches, woodland, marshes, reed beds and beautiful panoramic views towards the Isle of Wight and the Purbecks! Follow the tarmac path around the outside for a 3.7-mile circular walk and experience it all, including a stroll along the windswept dunes of Mudeford Sandbank which boasts some of the most iconic (and expensive) beach huts in the country!
Wonderful wildlife:
Wildlife at the head includes the UK's rarest amphibian, the Natterjack Toad, which was re-introduced to the heathland in 1989, over 300 species of bird including Skylarks, Nightjars, Ospreys and Dunlins and many species of dragonfly around the lily pond and quarry pond.
Like this article
Sign up and be the first to read our blog posts.

Did you enjoy this article? Feel free to share it.