Dog Friendly Lodges & Log Cabins
Hoburne Naish
With incredible clifftop views and miles of sandy beaches, Hoburne Naish is the perfect place for a seaside getaway all year round.
Becton Lodge with Hot Tub (3 Bedroom)
If you and your pooch are looking for ultimate luxury, the Becton Lodge is perfect for you! It's among the top-of-the-range lodges at Hoburne Naish and with a hot tub built into the deck, you'll never want to leave.
Our Solent Lodges are situated in a picturesque meadow setting at Hoburne Naish. With contemporary-designs, they make a great holiday base for you and your four-legged friend.
Hoburne Doublebois
In the heart of Cornwall, Hoburne Doublebois Holiday Park serves as the perfect base, with beautiful countryside as your backdrop.
This dog friendly lodge is cosy, comfortable and very well designed. With a sun deck where you can watch the day go by alongside your pooch, what more could you ask for?
Spoil yourself and your furry friend with one of our luxurious lodges with a large sun deck where you, your family and pet can relax and take in the beautiful settings of the Cornish countryside.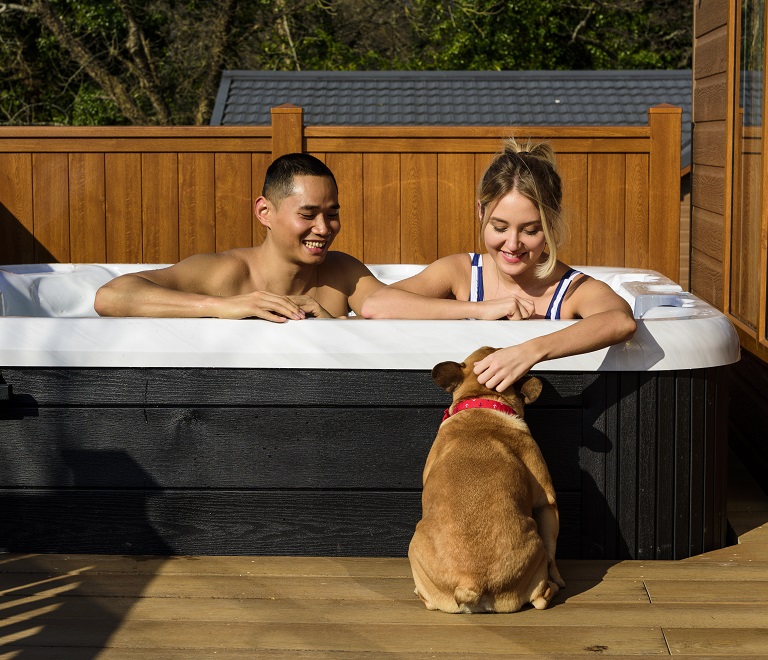 Your Dog Friendly Adventure Awaits
With so much on offer for you, the family and your beloved dog, Hoburne Holiday Parks is the perfect place for both those seeking an adventure and those who want a relaxing getaway.
Morning walks will be a breeze as many of our parks also feature nature trails and dog walking areas where you can lose yourself in the stunning countryside!
Our dog friendly holidays are very popular – plan your holiday at one of our dog friendly holiday parks or view all of our dog-friendly accommodation.
Note: Suitable lodges for pets have 'dog friendly' listed in the title.