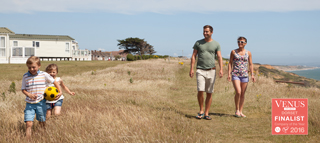 Hoburne is delighted to have been announced as one of the three companies who have made it through to the finals of the Dorset Venus Awards 2016, in the category of "Company of the Year" sponsored by Enhanced.
They are, in no particular order, Lush, Organix and Hoburne.
The award category recognises a great female friendly company with 50 employees or more (female or male).
Over 20 companies were interviewed by Enhanced with 10 making the shortlist, but after careful consideration and much deliberation the final 3 were chosen. 
"It has been an amazing project" says Gail Pilling, Business Consultant Enhanced, " we have had the opportunity to meet with some inspirational people representing some outstanding companies. The difficult part was to select just 3 companies to go through to the finals. However a decision has been made and we would very much like to congratulate Lush, Organix and Hoburne on making it through to the last stage."
The Dorset Venus Awards will culminate in a glamorous Ceremony and Gala Dinner to be held at the Bournemouth International Centre on Thursday 20th October 2016 when the winners will be announced.