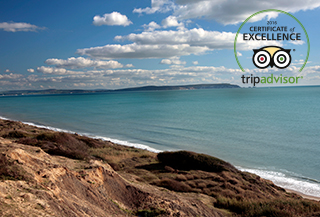 Our customers have spoken! We're 2016 Certificate of Excellence winners
Hoburne Holidays are delighted to announce that 6 out of 7 of our parks have received the 2016 TripAdvisor Certificate of Excellence. This achievement celebrates businesses that have consistently achieved glowing traveller reviews on TripAdvisor the past year. 
Now in its sixth year, the prestigious Certificate of Excellence recognises establishments that consistently earn great TripAdvisor reviews from travellers. The Certificate of Excellence accounts for the quality, quantity and recency of reviews submitted by customers on TripAdvisor over a 12-month period.
What our customers have said about our parks:
Hoburne Naish
'Fmarst' April 2016 
"Great lodges and a magnificent view. Lovely entertainment during the evening. The staff at the main reception are very friendly. The pool area is fantastic The children's play area is very well kept. Kids and adults would spend lots of time at the gaming area... variety of games available."
Hoburne Bashley
'David P' June 2016
"What an amazing place to stay. This was mine and my girlfriends first trip together and have to say we were more than pleased. The site is a good size and very clean, you can see a lot of work has been done to improve the site. Caravan was very modern and very clean."
Hoburne Park
'Shirleyjo49' May 2016
"We got married 29th April and came to Hoburne Park for our honeymoon as this was the 1st place we visited when we 1st met. We booked a caravan for 2weeks it was a lovely caravan with everything you could want in it. The amenities on the site were very very good we made great use of the sauna steam room jacuzzi and the swimming pool. The staff were all very helpful nothing was too much trouble."
Hoburne Blue Anchor
'John A' June 2016
"The owner and staff could not be a better combination, you start to enjoy you stay from the moment you booking. Great indoor pool, open air play park. crazy golf, woodland walk, shop and laundry, just the right balance for a fun stress free holiday. We went with 3 generations of family all enjoyed, have been on many caravan holiday's this is the best yet."
Hoburne Devon Bay
'Kr0bb0' June 2016
"I've lost count of how many times we've come to this park now, it's our favourite Hoburne by far! The staff are all fantastic and bend over backwards to help. The entertainment staff are amazing and work so hard. The park is lovely and clean. The pool area is great. The food is good. Our whole family love this Hoburne park including Sammy and the gang. We'll be back again!"
Hoburne Doublebois
'Georgina V' April 2016
"Had the most wonderful break here. The staff are so friendly and helpful. The lovely couple who checked us in were very welcoming and explained everything we needed to know. The complex itself is just beautiful. It's very well kept and the staff work very hard to keep it that way. My son loved the tennis court and games room."